Chile Skiing and Snowboarding

Come July, snow skiing in Chile has it all and is the destination for escaping the heat of the Northern Hemisphere summer. For prime powder skiing conditions, the best time to ski Chile is July to mid September.
From legendary and top rated ski resorts like Portillo, Valle Nevado, and La Parva, to the volcanic snow-blanketed terrain of Nevados de Chillan, the Chilean Andes Mountains leave little flatland. Chili is a paradise for skiing and snowboarding during the South American winter, June to October. No wonder Outside Magazine has named Chile the world's best international adventure hub.
Chile Backcountry: When to Go.
August to September is your best bet for deeper bases, hitting the storms rolling off the Pacific and bluebird windows. Starting in mid-September, longer days, corn snow and south facing powder cannot be missed. The countryside is scattered with smoking snow covered volcanos, and thermal springs, all the way into Patagonia. Untapped backcountry skiing and alpine ski touring on the beautiful volcanoes of the Lake District allows you to chase winter well into late October.
For the ultimate mechanized backcountry ski and snowboard experience, consider a mix of off-piste and cat-skiing near the base of the mighty Aconcagua Mountain, the tallest peak in the Andean chain.
Travel Guide
Our Chile Trips. Guided Chile Tours Since 1999
PowderQuest's guided trips have a maximum of only 8 guests. We offer 4 trip styles catered to how you like to spend your day in the mountains. Our most popular tours in Chile are below.
Progression Tours
Focused on taking your skiing or snowboarding to the next level with friendly certified coaches at Chile's best ski destinations.
Off Piste Tours
Explore the best in bounds and out of bounds terrain via short hikes from the local ski resorts with our certified backcountry ski guides.
Lift Assisted Touring – New for 2017!
Perfect mix of guided off-piste and lift accessed ski touring and splitboarding out of our favorite Chilean resorts.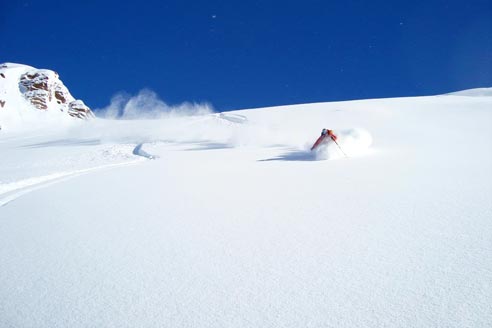 Backcountry Touring Trips
Professionally guided alpine touring and split boarding adventures in the pristine backcountry of the Chilean Andes.